I have a dark secret. Back in my younger days, I had a huge crush on Princess Leia. She was pretty and regal, but she was headstrong and not afraid to take care of business. Of course, I am all grown up and over this childhood fantasy, but I still have my shoebox full of Princess Leia stuff. I hope she doesn't feel creeped out by this.



Dressed in her regal best.



The Princess aboard her ship Tantive IV.



Princess, look over here. No over here!



Here's a young Princess Leia playing the popular Alderaan game of "Senators and Pageboys."



Even princesses have awkward teenage years.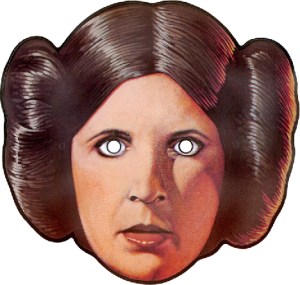 This is cool, I think this is a Princess Leia mask from Alderaan Day or something.



Here she is giving a ride to a couple of nice fellows in her landspeeder.



Here she is next to some guy who should be so happy to have a few minutes of fame by being photographed next to a space princess.



Though the Princess is a peace-loving being, she is not above busting a cap should the need arise.



At a lovely dinner on Cloud City.



Kissing a pirate! Oh the scandal!



Kissing a space pirate is one thing, but kissing a droid?



Kissing her brother! This is getting worse!



Kissing herself? Oh my goodness!



Well, I guess kissing the Baron Administrator of a gas mining city isn't that bad, he seems a bit shady, though. He could be planning something.



A gentleman would not comment on this.



And finally, Princess Leia's darkest secret.