A letter from The Count. The Count. Who is this The Count? I had to figure this out, so I sat down with a pencil and paper and started thinking about all of the Counts that I could think of.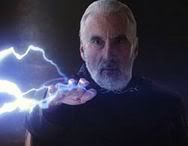 Count Dooku

Could Dooku be this mysterious Count? He is evil, but last I heard, he was at Palpatine's, making his life miserable. I can't count Dooku out, but it is not likely him.

The Count

I suppose that it is also possible that my new adversary is Count von Count from Sesame Street, but he isn't so much evil as he has some sort of compulsion to count everything in sight. If push comes to shove, I think that I could distract him by asking him to count bricks on the wall or blades of grass.

Also, he's a puppet.



Count Olaf

Count Olaf is pretty evil, I suppose, but I just can't put this rubber-faced miscreant in the "Super Villain" category that my mystery villain appears to be a part of. Olaf is an actor and has a flair for the dramatic, sure, but he has his hands full trying to get his hands on the Baudelaire fortune, and can't even defeat three kids to get it.



The Count of Monte Cristo

I cannot believe this delicious sandwich could be evil. The Monte Cristo is ham and chicken sandwich dipped in egg and fried. The Monte Cristo is dangerous to my cholesterol level only.



Count Blah

Count Blah is a knock-off of Sesame Street's The Count from the cancelled TV show Greg The Bunny. I also don't think he's really evil. Oh yes, and he's a puppet, too.



Count Basie

I can't believe that Count Basie is my nemesis, either. He wasn't evil, he was a jazz musician. Plus he is no longer with us, so he's probably kickin' it in on a cloud and has no time for Earthly concerns.



Count Chocula

Oh delicious choclatey breakfast cereal, you could never be evil.



Count Maurice Maeterlinck

During my search, I found information on Count Maeterlinck, who was a Nobel Prize-winning poet. He also died in 1949. Because he was a poet and the winner of an award established by the inventor of dynamite, I cannot believe that this is the count that I am looking for.



Count Floyd

Count Floyd is a former subpar horror show host from some cancelled Canadian show. He mostly howls and introduce bad scary movies. He's not evil as far as I can tell.



Count Leo Tolstoy

I didn't even know Tolstoy was a Count!

I did some more research on the Internet. A count is a European nobleman. There are many count characters in literature and film, but they are all older and/or in romance stories and I just can't believe that any of these characters would declare himself my enemy. So who is this Count? Who could this Count possibly be?

(Turns to audience)

Do you know who this Count is...?